Artist of the Day
Antonio Garcia
I'm still reading the book about "The Latin American Spirit" and I fell in love with this painting, Woman Before a Mirror, the first time I looked at it. I couldn't find it online so I snapped a picture of it from the book on my iphone. Sorry for the image quality! It is really beautiful!
Inspiration of the Day/Other
This
was on Yahoo this morning
I LOVE this guy! He built a village for over 222 cats on a property in the woods. It's like my life's goal!
A few years ago, I checked out
this
book at the Library about a photographer named Bob Walker who, with his wife, customized their entire house to accommodate their cats. We're talking holes through the walls with walkways around the ceilings, large sets of stairs towering over his TV so his cats could lounge. Here are some images: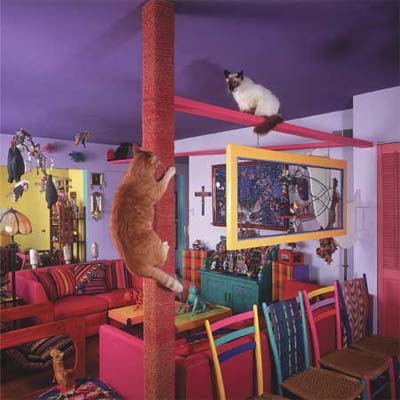 I think my cat would go to heaven if she could sleep that high above us (since cats have that whole "better than you" attitude) and if there were a window she could peep her head out of. This place is my dream house. Look at the kitsch on the walls, the ceramic kitty statues, he's even petting a white cat that looks just like my Eva!
Project of the Day
CLEANING the art room. The floor got so gross with paper scraps that I dragged it all throughout the house. I'm slowly working on allergy-proofing the house (I do it every Friday).
If I end up working on something, I'll post it. Today is primarily recuperating day since I've not been sleeping well all week. Tea and vitamin C, ahoy!
See you tomorrow!
-Katie